Bývalý fotbalista Viktorie Róbert Jež hledá na Slovensku nové talenty
Narodil se v červenci 1981 v Nitře, kde také začal s fotbalem a už v sedmnácti letech se dostal do ligového A-týmu. Devětkrát oblékl dres slovenské reprezentace, působil v Polsku, s Žilinou získal dva titul a zahrál si s ní také základní skupinu Ligy mistrů. Ale kus své povedené kariéry prožil bývalý záložník Róbert Jež také v Plzni. Dres Viktorie oblékal v letech 2000 až 2005. A protože v nedalekých Blovicích si našel manželku, se kterou doma v Nitře vychovává dcery Eriku a Lauru, často se na západ Čech vrací.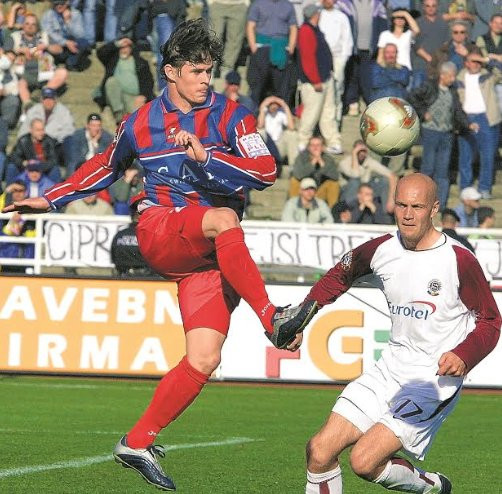 "Na dobu v Plzni moc rád vzpomínám. Nejraději na druhou sezonu ve druhé lize, kterou jsme vyhráli a postoupili do první ligy. V kabině byla super parta, výborný trenér Zdeněk Michálek. Byla to hlavně jeho zásluha, že se tehdy postoupilo," vzpomíná dnes 37letý Róbert Jež. Naposledy se v Plzni objevil o vánočních svátcích a na Silvestra nevynechal tradiční fotbalovou exhibici bývalých viktoriánů.
Kariéru jste ukončil v roce 2016 v Trnavě kvůli zdravotním potížím. Co vás trápilo?
Měl jsem tam smlouvu na rok a půl, ale už po půl roce jsem ji musel zrušit. Mám posunutou plotýnku. Už jsem s tím měl problémy posledních pět let kariéry, často jsem hrával pod injekcemi. Když mně pak lékař řekl, že ploténka je posunutá blízko k míše a nemuselo by to dobře dopadnout, okamžitě jsem skončil. Bylo mi pětatřicet, nechtěl jsem riskovat.
Právě v Trnavě loni na podzim působil váš krajan a plzeňský útočník Marek Bakoš. Sledoval jste, jak se mu na Slovensku daří?
Samozřejmě. Marek odvedl v Trnavě vynikající práci. Je to velký profesionál, respektovaný kabinou a milovaný fanoušky. Bylo až neuvěřitelné, za jak krátkou dobu si získal srdce trnavských fanoušků.
Čím se nyní živíte vy?
Pracuji pro jednu hráčskou agenturu jako fotbalový skaut. Jezdím po Slovensku a vyhledávám mladé talenty. Zastupujeme zajímavé hráče, například Stana Lobotku, který nyní působí ve Španělsku v týmu Celta Vigo.
Z Plzně jste před lety odešel do Žiliny, kde jste získal dva mistrovské tituly a setkal se tam i se současným koučem Viktorie Pavlem Vrbou. Jak na něj vzpomínáte?
Úžasně. Právě pod ním jsem získal svůj první mistrovský titul v kariéře. Pana Vrbu mám moc rád. Kdykoliv se potkáme, máme si spolu co říci.
Druhý triumf ve slovenské lize přišel pod jiným českým trenérem Pavlem Hapalem, který je nyní koučem slovenské reprezentace. Ten vás dovedl až do Ligy mistrů, byl to váš vrchol kariéry?
Určitě ano. Hlavně sezona 2009/10 byla velice úspěšná. S trenérem Hapalem jsme prošli předkoly Ligy mistrů až do základní skupiny, kde jsme se utkali s Chelsea, Olympique Marseille a Spartakem Moskva. Ta atmosféra byla neskutečná, moc jsem si to užil. A ještě předtím jsem si se Žilinou zahrál i skupinu Evropské ligy, byla to krásná léta.
Pět let jste působil i v Polsku. Co vám dala tahle štace?
Další zkušenosti a zážitky. V Polsku jsem působil pět let. Nejprve v Górniku Zabrze, hned po půl roce jsem se stěhoval do Varšavy, kde jsem hrál rok za Polonii. Rok a půl jsem působil také v Zagłębie Lubin, kde jsem se opět potkal s trenérem Hapalem. A na poslední dva roky, než jsem se vrátil na Slovensko, jsem se přesunul do Górniku Zabrze.
Když jste v Plzni hrával, klub se pohyboval neustále mezi sestupem z nejvyšší soutěže a návratem mezi elitu. Teď má na kontě pět českých titulů, třikrát si zahrála základní skupinu Ligy mistrů. Fandíte jí na dálku?
Klobouk dolů před tím, co Viktorka v posledních letech předvádí. Pravidelně hraje evropské poháry a už několik sezon dokazuje, že to není žádný fackovací panák. Vydobyla si doma i v Evropě velký respekt a já jí přeji jen to nejlepší i do dalších let.
NEXT ARTICLE
Čtyři medaile a kýbl slz z MČR mužů a žen v atletice pro AK ŠKODA Plzeň
SUBSCRIBE TO E-MAIL ARTICLES
Regular feed of Pilsen sport related information