Statistiky a analýza oblíbenosti lukostřelby v České republice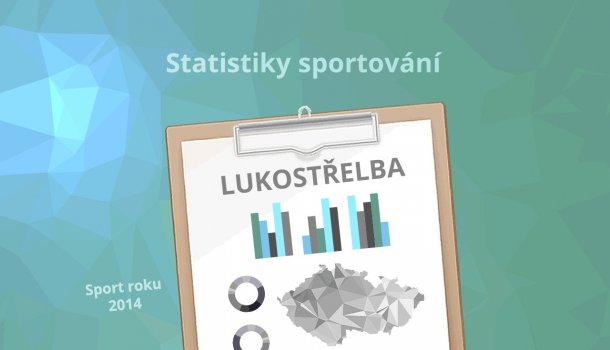 Střelba z luku byla v prvé řadě loveckou a vojenskou dovedností, až později se přeměnila na sportovní činnost. Sportovní lukostřelba je individuálním sportem, kde se střílí na různě vzdálený a různě velký terč. Kromě čistě terčové lukostřelby existují i další formy jako je terénní lukostřelba, která se provozuje v lesích, parcích a loukách, nebo tzv. 3D lukostřelba, která místo terčů používá figuríny zvířat v životní velikosti.
Lukostřelba se poprvé objevila na olympijských hrách už v roce 1900 v Paříži, ale na hrách v roce 1924 byla vyřazena. Na olympijskou scénu se však v roce 1972 opět vrátila na OH v Mnichově. Od té doby nechyběla ani jednou.
Statistiky oblíbenosti lukostřelby v ČR
Lukostřelba si v celkovém měřítku nevede vůbec špatně. Ve výsledku se umístila na 29. místě v oblíbenosti sportů (2,18 %).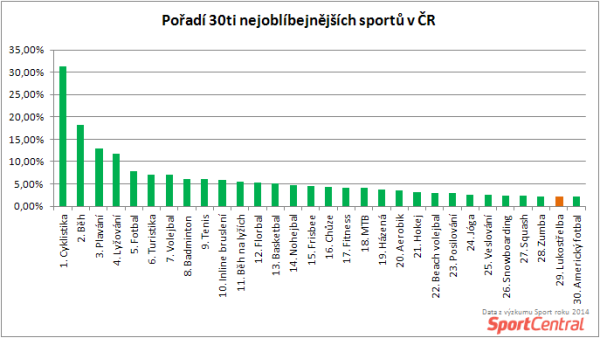 Větší oblibě se lukostřelba těší u mužského pohlaví (2,50 % oproti 1,86 % u žen). Z hlediska věku je nejoblíbenější u nejmladší (4,0 %) a nejstarší (3,05 %) věkové skupiny. Naopak u žen středního věku je obliba střelby z luku mizivá.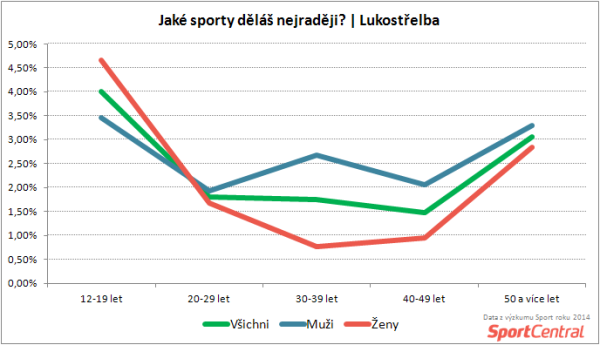 Jak často se lidé věnují lukostřelbě?
Aktivní provozování lukostřelby odpovídá její popularitě. Střelba z luku je celkově 24. nejčastěji provozovanou sportovní činností. Nejčastěji se jí věnují mladé dívky ve věku 12-19 let (4,70 %). U mužů je to naopak nejstarší věkové kategorie 50 a více let (3,70 %).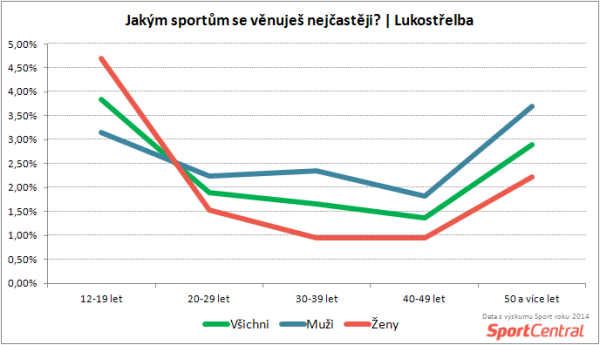 Kolik lidí by si chtělo vyzkoušet střelbu z luku?
Celkem 1,75 % respondentů uvedlo, že by mělo zájem si lukostřelbu vyzkoušet. Mezi pohlavími panuje obrácený trend. U mužů trend s věkem stoupá, kdežto u žen zájem s věkem naopak klesá. Úplně největší zájem mají muži 50 a více let (3,64 %).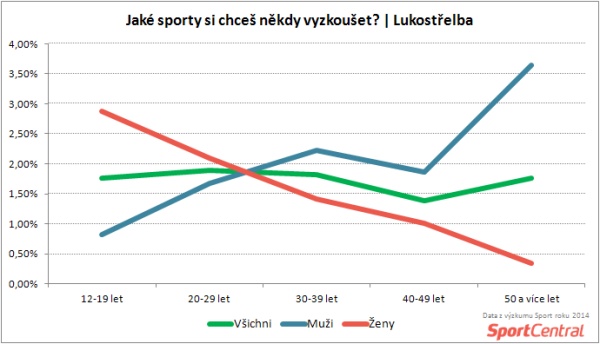 Je lukostřelba drahým sportem?
Češi nepovažují lukostřelbu za nijak zvlášť drahou aktivitu. Pouhých 0,59 % dotázaných uvedlo, že je pro ně lukostřelba příliš finančně náročná. Z věkového rozdělení níže vidíme, že nízká oblíbenost lukostřelby u žen ve věku 20-29 let může být zapříčiněno i tím, že je pro ně příliš nákladná.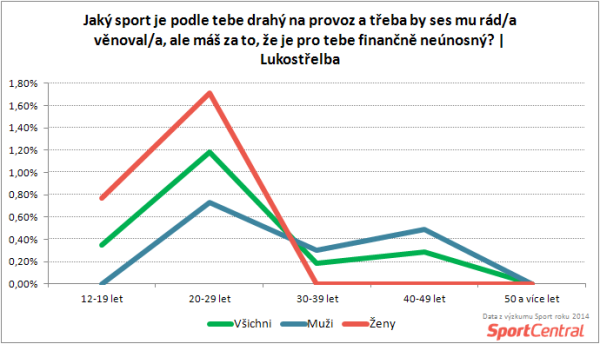 Lukostřelba jako divácký sport
1,21 % respondentů se pravidelně dívá na lukostřelbu v televizi nebo přímo v hledišti, to z ní dělá 36. nejsledovanější sport v ČR. O něco větší sledovanost má u ženského pohlaví.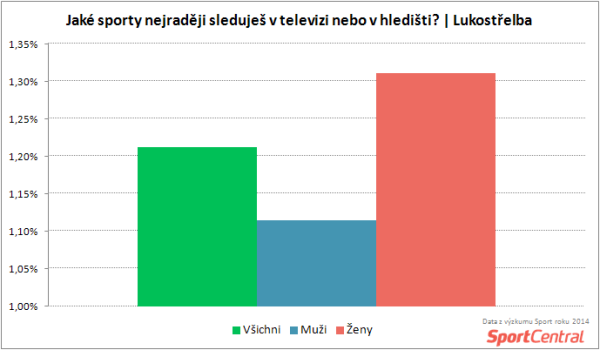 Nejčastěji ji sledují dívky 12-19 let (2,65 %) a muži 50 a více let (2,33 %).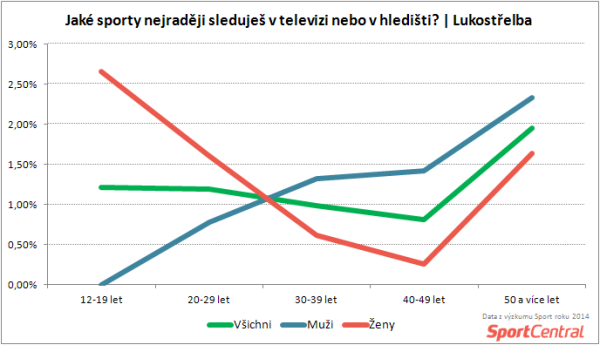 Výzkum sportování – Sport roku 2014
Statistická data byla získaná internetovým průzkumem, který probíhal na serveru SportCentral.cz v období 17.11. – 5.12.2014. Do hlasování se zapojilo 4443 respondentů ve věku 12 – 65 let, kteří odpovídali na sadu otázek týkající se oblíbenosti sportů a dalších sportovních návyků. Infografiku s výsledky ankety si můžete prohlédnout na stránce Sport roku 2014. Respondenti byli z celé České republiky a pouze z 8 % se jednalo o uživatele serveru SportCentral. Do výzkumu se zapojilo 49,7 % mužů a 50,3 % žen.
Baví vás lukostřelba a chtěli byste něco doplnit? Máte ke zjištěným statistikám své vlastní postřehy? Budeme rádi, když nám zanecháte komentář.
Previous post
Jak vytvořit webové stránky sportoviště na WordPressu 2/5 – Koupě domény
Next post
Proběhněte se historickým centrem Brna
SUBSCRIBE TO E-MAIL ARTICLES
Regular feed of sport related information